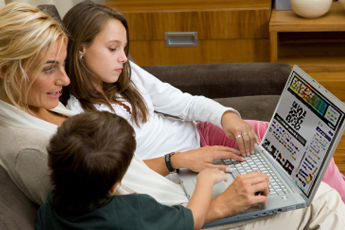 Statistically, moms still control the proverbial purse strings in many families — and online shopping outlets have caught on. Sites of all sizes and categories are offering the best deals and perks just for mom consumers, who welcome not only the savings, but also the added convenience.
"I think online shopping is one of the greatest things to happen to modern motherhood," says Mir Kamin, an Atlanta-based mom and what's called a "DealProorSavings.com. "When you've got little kids, the idea of even just running to the grocery store to get cereal can be daunting. Being able to sit in your pajamas at the comfort of your computer and have it delivered for less hassle and money? Amazing!"
Linsey Knerl, a mother of five based in the tiny town of Tekamah, Neb., couldn't agree more. The extremely rural nature of her surroundings makes it tough to trek out for necessities, and shopping online helps deliver her family's needs to their doorstep. She often checks sites like Alice.com and BabyCheapskate.com for new deals. She also uses Amazon Mom on a regular basis.
"I save at least 20 to 30 percent on my total spending, but I also value the peripheral savings," says Knerl. "When I go shopping, I usually have to bring all five kids, which means I'm driving the Suburban. Shopping online saves us hundreds of dollars per year on gas alone."
So how can you make online shopping work for your family's needs — and your budget? Find out where the best deals are and how to make the most of them:
Online Shopping Tip No. 1: Look for websites that pack a double savings punch.
For instance, those with a free Amazon Mom membership get not only 30 percent off diapers and wipes through its Subscribe & Save program, but also three free months with Amazon Prime (which affords free 2-day shipping on most products). For every $25 spent, another month is tacked on to the free Amazon Prime access. "When I order anything at all — from cereal to parts for my husband's car — we get it shipped in two days for free," says Knerl of her Prime benefits. "I have one year banked where I don't have to pay any shipping costs."
Online Shopping Tip No. 2: Let the best deals come to you.
Some moms don't have time to comparison shop or search for deals, and that's where time-saving resources like DropDownDeals.com come into play. After downloading a plug-in, users can visit various retail websites, and available coupons will automatically be displayed for that merchant. Time-strapped moms can also subscribe to services like ZingSale or DealNews email alerts, which send shoppers customized sale and savings notifications.
Online Shopping Tip No. No. 3: Look beyond Groupon for the best deals.
"In the wake of the recession, everyone wants a bargain, and retailers are sensitive to that," says Kamin, who also runs the blog WantNot.net. "That's why we're seeing an explosion of Groupon-style sites." No doubt about it: Groupon has started a major trend in the daily deals arena, and many similar sites with exclusively family-focused offerings are now popping up. BabySteals and FamilyFinds are just a few popular sites in the cloud in this growing category.
Online Shopping Tip No. 4: Translate the savings to your brick-and-mortar experience.
Even when you're not shopping online, you can still employ your Web savvy to save big bucks. (Research shows that $917 billion of 2009 retail sales were Web-influenced!) Sites like SaleLocator point shoppers to local sales and even help users determine the best driving route to maximize time and gas mileage.