Here's the truth about mobile games: You can only play Angry Birds and Fruit Ninja for so long before they get a bit stale. But whether you're a longtime gamer looking for the latest game to get hooked on or just need to occupy your kids on the go, these top five new game apps will do the trick.
Mobile Game No. 1: Zombieville USA 2

Best for … Giving zombies their due
This mobile game is another installment to pop culture's obsession with the undead. It improves on the original with some new features: character customization, unlockable content, multiplayer capability and iCloud support so you can sync your game play across devices. Although it's a first-person shooter, the cartoony graphics keep the gore from being realistic in any way; so while it's on the violent side for young kids, older kids and adults will find there's something undeniably satisfying about blowtorching a hoard of zombies.
$0.99 on iPhone and iPad; Android users can download the original for $1.99
Mobile Game No. 2: Where's My Water?

Best for … Clever use of physics
Swampy is that infamous urban legend come to life: an alligator that lives beneath the city. He's rather fussy about personal hygiene, so you have to dig tunnels and use the power of gravity and water pressure to deliver water to Swampy's bathtub so he can freshen up. Just watch out for the algae and toxic sludge.
$0.99 on iPhone, iPad and Android
Mobile Game No. 3: Cut the Rope: Experiments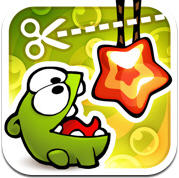 Best for … The charming green monster
In this sequel to bestseller Cut the Rope, your goal is to solve clever puzzles that will result in feeding candy to Om Nom, the game's adorable little monster. The concepts are simply designed, but you have to use your brain and master technique — so Angry Birds devotees will probably find it appealing. This version is similar to the original game; it simply introduces 75 new gaming levels.
$0.99 on iPhone; Android users can try the original Cut the Rope for $0.99
Mobile Game No. 4: Tiny Wings

Best for … Simplicity
In Tiny Wings, you have to help a fat little bird with too-small wings to use hills and become airborne. The app owes much of its charm to its simple and whimsical art. There's also something sweet about the objective, which is simple to understand but harder to master. And since Tiny Wings is different from most games, it can leave you frustrated when you can't seem to win, but it will also leave you feeling just a little calmer.
$0.99 on iPhone and Android
Mobile Game 5: Infinity Blade II

Best for … Amazing graphics
At the opposite end of the spectrum from Tiny Wings is Infinity Blade II. It doesn't come out until Dec. 1, 2011, so price hasn't been announced yet, but it's worth including in this list. It's one of the most eagerly awaited mobile games in a while. (Apple demoed the game at the announcement of the iPhone 4S, and the buzz has grown ever since.) The game's storyline is pretty standard fantasy stuff — the hero's journey set in an imaginary world with scary imaginary creatures — but the graphics set it apart. The game is so realistic with its violent sword fighting that it's not appropriate for kids. But if critics and hardcore gamers are right, Infinity Blade II will be a must-buy for mature gamers who love action games.
Pricing TBD; will be available on iOS only