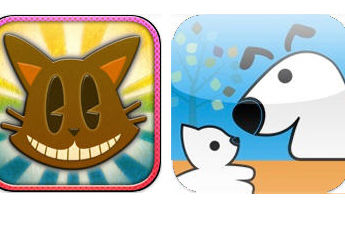 If your family includes a member with four legs, you'll be glad to know your smartphone can help with that part of your life too. We're not talking about frivolous apps that let you care for virtual pets or make a Facebook profile for your cat. We're talking about truly useful apps that can help you keep your animal happy and healthy — and save you precious time.
Pet App No. 1: Pet First Aid
Helps you … Save your pet's life
They can't talk, so when your pets are behaving strangely, it's up to you to diagnose their behavior and figure out whether there's a problem. This app includes handy videos and step-by-step instructions for identifying and treating common ailments and responding to emergency situations such as poisoning, bleeding and fractures.
You can also record your pet's vitals and medical history so it's always
handy when you need it. This app is for dogs and cats only.

Available on: iOS and Android devices.
Pet App No. 2: Game for Cats
Helps you … Keep your cat entertained
This app requires a tablet, so if you have one (along with a feline in the house), spring for it. Game for Cats exploits cats' natural urge to chase, by displaying a red dot — or after an in-app purchase, an animated mouse — that darts around the screen.
When your cat bats at the target and hits it, he racks up points. (Be
sure to get a screen protector first so your tablet won't get
scratched.)

Available on: iOS devices. For Android and iPad, try the Friskies apps .
Pet App No. 3: Pet Dossier
Helps you … Track your pet's life
Pet Dossier is exactly what it sounds like: a virtual dossier of pretty much all the information anyone would need to know about your pet. You can record vital stats, species info, birthday, feeding and medication schedules, vet info, emergency contacts and any kind of notes you want.
It's a handy app to take to the vet or leave for a pet sitter who needs
to know your pets' quirks. The app works for any pet you love.

Available on: iOS devices. For Android, try Pet Master Pro .
Pet App No. 4: Dog Park Finder Plus
Helps you … Exercise your dog
If you're away from home and looking for a dog park, fire up this app to find photos and information for nearby parks, directions to get there and reviews from other users.
The app pulls data from DogParkUSA.com, which features more than 5,300 dog parks and dog-friendly beaches and hiking trails.

Available on: iOS devices.
Pet App No. 5: Petfinder
Helps you … Fall in love with a new pet
If you've ever browsed the Petfinder website to pine for an animal, you'll be pleased — or, if your landlord isn't flexible, distressed — to hear that the Petfinder app is equally addictive.
You can browse photos of all the adoptable animals in your area, mark
your favorites, search pets by criteria like breed and age, and read
adoption stories. This app makes it easy to fall in love with your next
pet.

Available on: iOS devices. For Android, try TailChaser .